Wireless Network Consultant in London
Is Your Wi-Fi Keeping Up with the Trend of Mobile Web Browsing Overtaking Desktop Browsing?
Wireless Network Consultancy in London
CLI Secure provides top-notch wireless network services, encompassing advice, training, solutions, and services across various digital wireless technologies. Our extensive expertise allows us to offer industry-leading guidance, professional support, and network solutions for customers of all sizes and types, covering Wi-Fi and other wireless technologies. Whether you need assistance with planning, designing, implementing, or maintaining your wireless network, we have you covered. Trust us to provide the right solutions that fit your unique business needs.
At CLI Secure, we offer a range of services, including wireless planning, surveys, specifications, design, and deployment to help you achieve the best Wi-Fi solution for your business needs. If you already have a system in place and are experiencing issues, we can also provide support to troubleshoot and solve any problems.
Wi-Fi Planning and Design
We plan and design Wi-Fi solutions for various organisations, ranging from schools to stadiums. Our experience will help overcome your unique requirements. Wi-Fi is a crucial component of today's IT strategy due to its productivity and flexibility benefits, and the continued growth of mobile connected devices.
Wireless Survey
With experience conducting surveys for more than 600+ access point locations across diverse settings - from city centre offices to hazardous environments - we're up to the challenge of designing and deploying the ideal Wi-Fi solution for your unique needs. Trust us to do Wi-Fi the right way for you.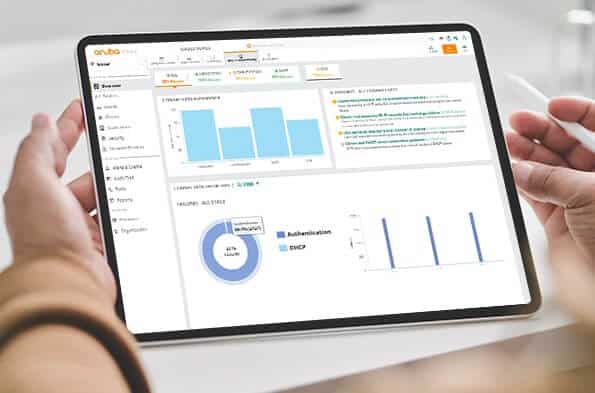 Wireless Network Implementation
We specialise in creating secure, scalable and high-performing solutions for all types of devices, including wired, IoT and Wi-Fi-connected devices. Our approach is tailored to each individual client's needs to ensure optimal performance and security.
Our partnerships with well-known companies in the WiFi industry enable our technicians to obtain the necessary resources for your WiFi network promptly and efficiently.
As a partner of Cisco Systems, Aruba, Fortinet,  DrayTek, and Grandstream, we can ensure that our installers, repairers, and engineers have access to the necessary resources for your WiFi network precisely when needed.
Wireless Network Planning
Wireless networks have become essential to modern business operations, enabling connectivity and mobility that drives productivity and efficiency. However, designing and deploying a wireless network requires careful planning to ensure optimal coverage, performance, and security.
At CLI Secure, we offer comprehensive consultation, planning, and wireless network design services to meet the needs of businesses of all sizes and types. Our team of experts has extensive experience in wireless network planning, and we can help you design and deploy a wireless network that meets your specific requirements.
Our wireless network planning services cover everything from the simplest networks to the most demanding requirements. We take the time to understand your business needs, goals, and objectives and work with you to develop a wireless network that meets your specific requirements. We use the latest tools and technologies to assess your wireless network needs and develop a comprehensive wireless network plan that meets your needs and budget.
We offer a range of wireless network planning services, including:
Site survey and analysis
Network architecture design
Coverage planning and optimisation
Capacity planning
Security planning and implementation
Deployment planning and management
Performance monitoring and troubleshooting
Our wireless network planning services are designed to help you achieve your wireless network goals while minimising risk and maximising return on investment. We can work with you throughout the wireless network planning process, from initial consultation to final deployment and ongoing maintenance and support.
Whether you need to design and deploy a new wireless network or upgrade an existing one, CLI Secure can help.

Wireless Survey Indoors & Outdoors
Our comprehensive suite of Wi-Fi survey services includes both predictive and in-situ network design, active and passive health check and verification surveys, Wi-Fi optimisation, and troubleshooting surveys, among others. At our core, we are committed to ensuring that your wireless network is fully optimised, secure, and operating at peak performance. Trust us to provide the expertise and experience necessary to deliver reliable and cost-effective wireless solutions tailored to your specific needs.

Wireless Solutions and Installation
Our team of experienced wireless experts works with a wide range of clients, from small businesses to large enterprises, to deliver wireless solutions that are tailored to their specific needs. Our solutions are designed to provide reliable and seamless wireless connectivity that enhances productivity and efficiency while reducing costs. We work closely with our clients to understand their unique requirements, and we take a vendor-neutral approach to wireless solutions. This means that we can provide wireless solutions that are based on the best technology available, rather than being limited by a single manufacturer's product line.

Wireless Troubleshooting and Support
Our team of experienced wireless engineers is equipped with the knowledge and tools necessary to diagnose and solve any issues that may arise with your wireless network. From signal interference to connectivity problems, we have seen it all and are confident in our ability to resolve any problem in a timely and efficient manner.In addition, we have direct partnerships and collaborations with manufacturers, which means we can also obtain support from them when necessary, and expedite the resolution process.
Meet Our Certified Wireless Network Engineers
Our team comprises certified wireless network engineers with the knowledge and experience to design and implement reliable wireless networks.

We continuously invest in training and certification programs to ensure our engineers stay up-to-date with the latest technology and industry standards.

Our certified engineers are committed to delivering high-quality wireless solutions and providing exceptional customer service to meet our clients' needs.
Wireless network design involves planning and creating a wireless network infrastructure that provides reliable and efficient connectivity. It is important to ensure that the wireless network design is tailored to the specific needs of the organisation, taking into account factors such as the physical layout of the building, number of devices, and potential interference.
A wireless network survey involves assessing the existing wireless network infrastructure and identifying any potential issues or areas for improvement. This survey can help to optimise the performance of the network and ensure that it meets the needs of the organisation. It is necessary to ensure that the wireless network is functioning correctly and providing optimal coverage.
Wireless network installation involves physically setting up the wireless network infrastructure, including access points, switches, and routers. It requires careful planning and execution to ensure that the network is installed correctly and meets the specific needs of the organisation.
We provide comprehensive support for wireless networks, including troubleshooting, maintenance, and repair services. Our team of certified wireless network engineers is available to assist with any issues that may arise, ensuring that the network remains up and running smoothly.
We follow industry best practices for wireless network security, including the use of encryption protocols, password protection, and regular security audits. We also work closely with our clients to develop customised security solutions that meet their specific needs.
Wireless networks require regular maintenance to ensure optimal performance and prevent potential issues. This can include software updates, hardware maintenance, and ongoing monitoring to identify and address any issues that may arise. We offer comprehensive maintenance services to ensure that wireless networks remain up and running smoothly