In a significant move for the telecoms industry, BT announced in 2015 that it will be shutting down the Public Switch Telephone Network (PSTN) and Integrated Services Digital Network (ISDN) in 2025. This impending change raises important questions about how it will affect businesses and consumers. In this blog post, we will provide answers to all your inquiries, helping you prepare for the approaching deadline.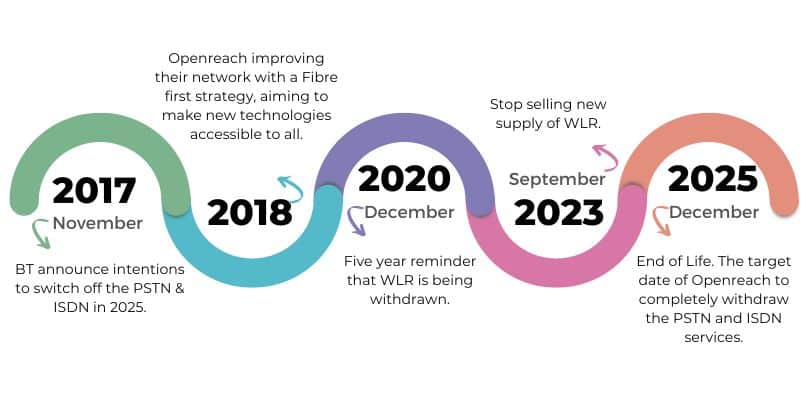 Understanding the PSTN and ISDN Shutdown:The PSTN, an aging network, will reach the end of its life in December 2025. It currently supports various Openreach products that Communication Providers (CPs) purchase at regulated prices and offer to businesses and consumers as part of their line rental, broadband, and call package deals. These products include Wholesale Line Rental (WLR) and Integrated Services Digital Network (ISDN).
SDN is available in two common variants: ISDN2, which supports channels in pairs with options for 2 or 8 channels, and ISDN30, primarily designed for larger businesses, offering between 8 and 30 channels. Each ISDN channel allows for one concurrent call. By the end of December 2025, traditional telephony services, including fixed lines and those in the PSTN, will be switched off and no longer available.
Reasons behind the PSTN and ISDN Shutdown:The PSTN enables telephone calls over copper and fibre lines using analog signaling, often referred to as "traditional telephony." With the advancements in broadband services, which now provide reliable and high-quality connectivity, the PSTN has evolved to support the transition to a predominantly digital network using digital technology. As a result, the majority of traditional fixed line telephony users will no longer require fixed-analog services in the coming years. To prioritise the development of a high-availability fibre network, Openreach needs to retire its aging legacy infrastructure and equipment that serves the PSTN, as their maintenance becomes increasingly challenging.
Impact on Other Services: The PSTN currently supports various services such as WLR, ISDN2, ISDN30, Local Loop Unbundling Shared Metallic Path Facilities (LLUSMPF), Narrowband Line Share, and Classic Products. While most providers focus on the PSTN withdrawal, they often overlook the impact on connectivity services like Asymmetrical Digital Subscriber Lines (ADSL) Broadband and Fibre To The Cabinet (FTTC) Broadband, which rely on these underlying services. These connectivity products will be affected by the WLR End of Life project since the underlying WLR telephone service will be withdrawn, rendering the broadband service unsupported.
Availability of PSTN Replacement Products and Services: Since its establishment in 2006, Openreach has played a vital role in providing equal access to the UK's telephony network. Their WLR (including ISDN) telephone products allowed CPs to offer their own telephone services without the need to maintain the network themselves, all at a fair and regulated price. However, with the advent of Voice over Internet Protocol (VoIP) technology, Openreach's focus has shifted towards the development of fibre networks. As a result, Openreach will no longer provide over-the-top VoIP lines required for voice services.
Going forward, Openreach will offer Single Order (SO) variants of ADSL or Fibre broadband services. These new products, known as Single Order Generic Ethernet Access (SOGEA) and Single Order Transition Access Product (SOTAP), will replace traditional WLR and ISDN lines. However, these broadband services will not include voice functionality or a dial tone. Communication Providers will need to offer VoIP services like Hosted PBX Licenses or Session Initiation Protocol (SIP Trunking) to deliver voice telephony, replacing traditional WLR or ISDN lines.
Commencement of Service Withdrawal: Openreach's specific method for withdrawing WLR and ISDN telephony products is yet to be confirmed. The strategy for the nationwide withdrawal may involve exchange-level, geographical area, or premise technology-based implementation. Openreach has already initiated trials in two exchanges, with the first trial starting in September 2019 at the Salisbury Exchange, Wiltshire. This exchange serves as the Openreach Full Fibre Trial and is one of two trial exchanges where WLR and ISDN will be completely withdrawn by December 2022. The second trial exchange, Mildenhall Exchange, will begin testing Single Order (SO) services from around January 2020. This exchange will also aim to withdraw services entirely by December 2022, even in the absence of fibre availability. Premises connected to the Mildenhall Exchange will be offered SOGEA and SOTAP products, requiring CPs to provide an over-the-top VoIP replacement service, such as a hosted PBX system license or SIP Trunking.
Cost Comparison: New Fibre Products vs. WLR: One concern raised by many providers is the potential cost increase associated with new fibre products compared to WLR. While consumers can currently obtain a voice line for as little as £10 to £15, full Fibre to the Premise (FTTP) services can start at £50 per month. This represents a significant price difference for those solely interested in voice services. However, it is expected that low-bandwidth variants will be available for voice-only requirements, although detailed information about these options is scarce at present.
Impact on Alarm Lines, Payment Terminals, and Special Line Rental Services: During the closure of the PSTN, all specialised services, including alarm lines, payment terminals, traffic light systems, payphone lines, emergency pendants, dialysis machines, telemetry devices, and others, must be tested with new IP technology and the SO products. Equipment manufacturers will need to conduct these tests, and Openreach can provide line test facilities for equipment compatibility assessments.
Implications of the 2023 Stop Sell Date: Starting from September 2023, Openreach will implement a complete "Stop Sell" for new WLR supply. However, further clarification is needed regarding what constitutes a new supply. For example, does this include transferring to another CP? As part of the nationwide PSTN, WLR, and ISDN withdrawal, this means that from the end of September 2023, no new line installations, conversions, channel increases, address changes, or takeovers will be possible for WLR and ISDN. However, consumer rights will still be upheld, and line transfers will be accepted as long as there are no changes to the installation when moving between providers. Calling and network features, such as caller display, presentation number, and measures to prevent nuisance calls, will be allowed, with exceptions in the trial exchanges where restrictions may apply depending on the availability of replacement fibre technology.
Meeting the December 2025 Deadline: Openreach is committed to the December 2025 deadline for the PSTN shutdown. Lines that have not transitioned to alternative services by April 2025 will be classified as Orphaned Assets. Openreach intends to collaborate with CPs to identify and migrate these customers to alternative products, ensuring uninterrupted service. The specific actions and migration processes are yet to be defined, including the identification of line usage and end user customers, as well as the contractual agreements involved. Nevertheless, it is important to note that services will be withdrawn, and customers will be impacted if they fail to make the necessary transition in time.
Conclusion: The impending shutdown of the BT Openreach PSTN and ISDN in 2025 marks a major milestone.